Heating & Air Conditioning Contractor
Denny's Plumbing, Heating, and Air Conditioning

Please feel free to contact us with your service needs. We provide the fastest, most professional service available.
Our Service is Guaranteed!

Call Denny's Plumbing, Heating, and Air Conditioning today at 218-834-7040 or click here to fill out our information request form.

We have 15 years of experience in servicing all major brands of heating and cooling equipment.
Contact us today and allow us to service your equipment in a prompt and courteous and professional manner.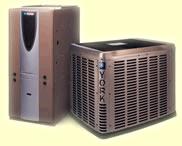 We can service most makes and models
Listed here are only a few of many. Rheem & Goodman,
Coleman, American Standard, Carrier, Lennox,
Weather King, Payne, Amana, Ruud, Heat-n-Glow,
Pacific Energy, and Majestic.
Ask us about our annual and long term residential and light commercial service programs.
Quick Service Appointment Request Form
Not in a rush, but would like us to come out and service your equipment? Fill out this service request form and we'll set a convenient appointment with you. Great for scheduling pre-season furnace and air conditioner clean and checks and equipment service appointments.